Coaching
Coaching is a training or development process via which an individual is supported while achieving a specific personal or professional competence result or goal. The individual receiving coaching may be referred to as coachee. Occasionally, the term coaching may be applied to an informal relationship between two individuals where one has greater experience and expertise than the other and offers advice and guidance as the other goes through a learning process, but coaching differs from mentoring by focusing upon competence specifics, as opposed to general overall development.Some coaches use a style in which they ask questions and offer opportunities that will challenge the coachee to find answers from within him/herself. This facilitates the learner to discover answers and new ways of being based on their values, preferences and unique perspectives.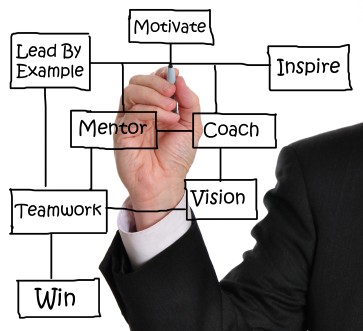 ---
What Coach does?
---
Facilitate the exploration of needs, motivations, desires, skills and thought processes to assist the individual in making real, lasting change.
Use questioning techniques to facilitate client's own thought processes in order to identify solutions and actions rather than takes a wholly directive approach
Support the client in setting appropriate goals and methods of assessing progress in relation to these goals
Observe, listen and ask questions to understand the client's situation
Creatively apply tools and techniques which may include one-to-one training, facilitating, counseling & networking.
Encourage a commitment to action and the development of lasting personal growth & change.
Maintain unconditional positive regard for the client, which means that the coach is at all times supportive and non-judgmental of the client, their views, lifestyle and aspirations.
Ensure that clients develop personal competencies and do not develop unhealthy dependencies on the coaching or mentoring relationship.
Evaluate the outcomes of the process, using objective measures wherever possible to ensure the relationship is successful and the client is achieving their personal goals.
Encourage clients to continually improve competencies and to develop new developmental alliances where necessary to achieve their goals.
Work within their area of personal competence.
Possess qualifications and experience in the areas that skills-transfer coaching is offered.
Manage the relationship to ensure the client receives the appropriate level of service and that programmes are neither too short, nor too long.
We offer best of the class coaching services through which you will discover workability and performance in any area of your life. NLiTN uses NLP coaching techniques that provides word class access to your own problems. Certified by NLP Coaching academy (Accredited by Sue Knights, UK).
---
Coaching Services offered
---
Life coaching
Business coaching
Executive coaching
Career coaching
Financial coaching
Personal coaching
Systemic coaching
Health coaching
Relationship coaching
Conflict coaching
Victimization coaching
Team facilitation
Skills Coaching
Performance Coaching
Memory/Concentration Improvement coaching
Study Coaching
Disciplinary Coaching
Parenting Coaching
Grief Coaching
Transition Coaching
---
Coaching session based On Appointment 
Coaching services are provided Monday to Sunday 9AM to 8PM. Online coaching also provided. Group coaching for students, corporate are provided at center.
Please use the contact form to book the appointment.